Value Your Trade
Sell or Trade Your Car In

Before you set out to find the next car that's going to take you across the streets of Cerritos, Buena Park, and Long Beach, you'll need to figure out what to do with your current vehicle. You can always pass it down to your young one when they reach the driving age, but if that's a long way away, you have a few more options to consider.
Our team at Norm Reeves Honda Superstore Cerritos is here to help you review your options to sell or trade your car in. You'll learn enough to figure out the next steps so you can get started on buying your next car.
---
Sell Car Privately
You can always make a few bucks if you plan to sell your car. However, if you choose to sell it privately, there are a few steps that you'll need to take. You'll want to post both print and digital ads to get the message across of a vehicle for sale. You'll also need to make sure that you park it in areas where there's plenty of passersby to see the vehicle and the "for sale" sign, as well as your contact information.
After plenty of drivers have caught a glimpse, you'll then begin to get offers. Some of these offers may be below your asking price, but depending on the interest, you may have to accept one that's not as high as you like.
---
Trading in Your Vehicle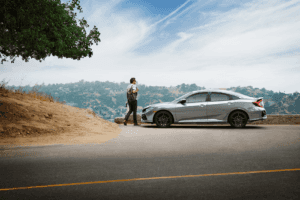 If the idea to sell your car privately isn't appealing, you can always sell it to us! Or, if you plan on buying a Honda from us, you can easily trade your vehicle in to our dealership! This allows you to use your trade in value as your down payment on your next car so you don't have to forfeit any funds towards your next car at the beginning stages of your financing experience.
How to Learn My Car's Trade In Value
You'll be able to get started on learning your vehicle's trade in value easily without having to leave the house. You can use our Kelley Blue Book® trade estimator to get a sense of your vehicle's value. You simply fill out the fields with your license plate, VIN, and the make/model. It will then give you the Blue Book value of what your vehicle is currently worth and how much you can apply towards your next vehicle purchase.
---
Get Started on Selling or Trading in Your Car Today!
Are you currently considering your next car? What are you going to do with your current one? If you're eager to get started, you can simply browse our Honda inventory to find a model that piques your interests. Then, find out your trade in value using our Kelley Blue Book® tool. You'll then be ready to start the process of buying your next car while trading in your old one.
Get started by browsing the selection and using our trade in tool at Norm Reeves Honda Superstore Cerritos! We're here to assist drivers throughout Cerritos, Buena Park, and Long Beach for when they're ready to buy, sell, or trade their car!
---