Hybrid Car Dealer near Me

Are you interested in getting behind the wheel of a hybrid car to add more efficiency to your journeys throughout the Cerritos, Buena Park, and Long Beach area? You may want to search for a hybrid car dealer near me to find out where you can locate and buy a sleek, stylish, and eco-friendly ride.
At Norm Reeves Honda Superstore Cerritos, we're happy to assist drivers in the surrounding areas for when it's time to buy a Honda hybrid. Whether you've been driving hybrid for years, or you're ready to make the jump, we're here to help! Contact us today.
Browsing the Honda Hybrid Selection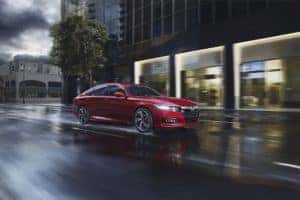 When it's time to get started, you'll be happy with the selection at our dealership near you. We have the Honda Accord Hybrid, Honda Clarity, and Honda Insight in stock. These sleek sedans come equipped with hybrid engines and AC Synchronous Permanent-Magnet Electric Motors, which not only result in a strong power output, but improve gas mileage and reduce emissions. Drop by to explore your Honda hybrid options, or simply browse online so you can find your next car with ease!
Research Your Next Hybrid Car
Making the decision on your next car doesn't have to be tough. In fact, it can be fun and rewarding when you know more about your options. We have a research library that you can use to learn about each Honda hybrid model so you can have a full sense of their power and efficiency, their interior comforts and space, and even their technology and features. These Honda reviews can help inform your test drive, so you'll know exactly what to look for when you're behind the wheel.
Taking a Hybrid Car Test Drive
When you're ready to start the process of finding your next car, you'll want to head to our hybrid car dealership to get a better look at your options. On top of our team of associates to assist you with learning more and reviewing the varying Honda hybrid models, you'll have the chance to get behind the wheel and experience the vehicle.
Taking the hybrid out for a test drive can really open your eyes to what the vehicle offers you. You'll get to experience the performance while getting more insight into the interior features and style. You'll know if it's the right choice for you.
Get Started at a Hybrid Car Dealer near Me
When you're ready to start looking for your hybrid model, you can always drop by and see us at Norm Reeves Honda Superstore Cerritos. We're here to help drivers near Cerritos, Buena Park, Long Beach, and beyond for when it's time to find the right hybrid car!
Schedule your test drive with us today!