Discover Online Workout Classes Cerritos CA

Working out from home is much easier than you think. All you need is a little space, a healthy mindset, and a great program to enhance motivation and steer you in the right direction.
At Body & Brain, located in Cerritos, CA, their team of amazing instructors have put together personalized online exercise classes for you to utilize from the comfort of your house.
To learn more about Body & Brain and how they can help you reach your fitness and meditation goals, continue reading!
---
History of Body & Brain
Specializing in yoga, tai-chi, and breathwork, Body & Brain has been guiding students for over 20 years at over 100 locations throughout the U.S. Now, you'll even be able to enjoy these instructed programs online. The company believes that both physical and emotional health are key to being successful in your fitness journey and even in aspects of your life.
Tai-chi is a traditional practice that's based on a 5,000-year-old tradition. This practice inspires most of the classes offered at Body & Brain. The goal of tai-chi is to keep your mind and body healthy through a variety of different exercises like breathing, martial arts, and more.
---
Offered Classes at Body & Mind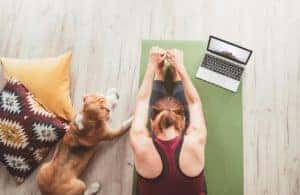 Each class offered at Body & Mind is one-hour long. Every class incorporates a fitness aspect, but also mixes in practices to help with mindful breathing and concentration. Some of the various classes you can enjoy at Body & Mind includes:
Yoga: Using different exercises and poses, you will work towards developing your strength, flexibility and breathing. This class is designed to train your body and create awareness.
Tai-Chi and Qigong: This class mixes both practices together to create a form of martial arts called DahnMuDo. This is a great way to increase your physical strength and overall flow of body energy.
Online 1-on-1 Class: This class is offered to first-time students only, and is designed to assess your physical, mental, emotional, and spiritual condition, which helps you shape your goals at Body & Mind.
---
An Online Fitness & Medication Experience With Body & Mind

Currently, Body & Mind is offering a live-streaming service for all their offered classes. One of their trained instructors will check your current energy, then help you determine a path that's right for you.
After this private session, you can join in on your virtual class for an hour of strength training and mind-conditioning.
Experience Body & Mind near Cerritos CA Today
If the programs at Body & Mind near Cerritos, CA, interest you, consider checking out their online classes!
To learn more about Body & Mind and to see their full schedule, check out their Twitter page.