Community Spotlight: LOCALA Kitchen & Bar

There's a wealth of amazing eateries in the Los Angeles area. Whether it's fine dining, a gourmet food truck, a hip new bistro, or even a pop up, there's plenty to sink your teeth into in LA. But if you're in the mood for amazing food, a relaxing environment, and top-notch service, you'll want to stay local and swing by LOCALA Kitchen & Bar at the Mayfair Hotel.
About LOCALA Kitchen & Bar
This eatery nestled in the Mayfair Hotel encompasses a variety of flavors that LA is known for. Chef Karo Patpatyan, who's locally-born and Spago-trained, utilizes the styles of the streets from various LA neighborhoods to deliver an authentic culinary experience. Whether it's brunch, dinner, a late night snack, or hangover munchies, LOCALA can certainly accommodate.
No matter the style, the ingredients, the take on the cultural cuisine, Chef Patpatyan is certainly ready to satisfy your hunger and tastes!
What to Get at LOCALA Kitchen & Bar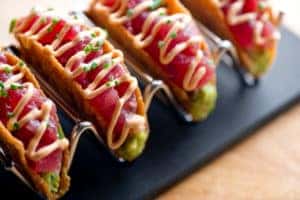 There's plenty of amazing dishes to sample when you head to LOCALA. But if you're popping in first thing, you'll certainly want to sample the amazing breakfast options like the Avocado Toast, Croque Madame, or the amazing Red Velvet Waffles with Fried Chicken.
If you're heading to LOCALA for lunch or dinner, you've got some serious decisions to make. There's the BBQ Short Rib Burger, the Spicy Tuna Tacos, Chicken Katsu Salad, and more! They have plenty of amazing menu items that can appease all diets and preferences!
Of course, because Chef Patpatyan is always creating and innovating, there's plenty of inventive dishes and new twists on LA classics. The menu is always changing, but there's always new and exciting items being added!
Become a LOCALA Regular!
On top of offering up some of the freshest ingredients with carefully crafted dishes, LOCALA has plenty to get excited about. They have special tastings and multi-course events, so you'll want to stay up-to-date on the goings on of this downtown hotel bistro.
Of course, you can always check in to see what's happening in the kitchen by following LOCALA Kitchen & Bar on Instagram and Facebook!