Local Spotlight: Amor y Tacos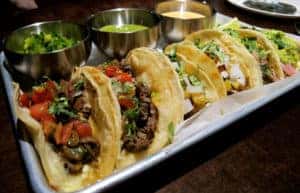 If you like to read the Los Angeles Times, then you might've seen this story about how Thomas Ortega is revolutionizing the Mexican food scene around Cerritos, Buena Park, and Long Beach, CA. Jonathan Gold's article pays special attention to one of Ortega's restaurants, Amor Y Tacos, describing their, "delicious tacos stuffed with rajas…fried calamari frosted with smoky-sweet chile sauce…[and] dark dining room lined with wrestling posters." Think that sounds like an awesome place? You're totally right!
Amor y Tacos
In Spanish, Amor y Tacos literally means love and tacos. And that's exactly what award-winning Chef Thomas Ortega had in mind when he decided to create a restaurant that showcases the cuisine that he grew up eating as a Los Angeles Chicano. Between fresh ingredients, a craft cocktail bar, and even a live tortilla station, you pretty much can't sit down for a meal here and not taste something really spectacular.
Delightful Menu
With that in mind, let's take a look at some of the most popular (and delicious-sounding) dishes they have:
Gorditas de Chorizo: handmade masa pockets stuffed with beef and chorizo blend, black beans, queso, cilantro, crema, cotija, avocado, salsa
O'120 Ahi Poke Taco: sushi grade yellow fin tuna poke, sesame vinaigrette, guacamole, crispy wonton skin, soy sauce, sesame seed, roasted corn chimichurri, radish cilantro salad
Enchiladas: pollo, carnitas, shrimp, asada, seasonal vegetables, short rib picadillo, or mole
If you want to see some of these dishes (and plenty of others) for yourself, check out their Instagram. Because, let's be honest…who doesn't love taking some time out of their day to stare at pictures of food?
Press Coverage
However, when it comes to believing that this place is amazing, you don't have to take our word for it; and you don't even have to take the L.A. Times' word for it. You can take OpenTable™'s word for it—Amor Y Tacos was a winner of their Diners' Choice award in 2016. You can take the Travel Channel's show Food Paradise's word for it—Ortega's restaurant will be spotlighted on an episode. Or you can take the words of any of the dozens of other media outlets who have expressed their interest: Discover Los Angeles, Los Angeles Magazine, OC Weekly®, Los Angeles Eater, Vice, etc. And stay tuned for a few more!
Stop by Amor y Tacos now to experience this culinary craze for yourself!
So you think you want to stop by? You'd better plan to go on an empty stomach—you're going to want to order pretty much everything you see on the menu! And you might want to go with an open heart, too, because you never know—some unexpected amor might sneak its way in right alongside those tacos.