Honda Dealer near Downey, CA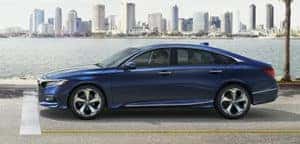 Having been a Honda dealer near Downey, CA, for many years now, the team at Norm Reeves Honda Superstore Cerritos has spent plenty of time around town. And we can attest to just how many excellent sights there are to see.
Believe it or not, one of the most interesting landmarks is the McDonald's on Lakewood Boulevard at Florence Avenue. As the oldest surviving McDonald's restaurant in the world, it's truly one of a kind. Open since 1953, it still maintains its trademark retro facade.
If you're looking for something a little more modern in this foodie paradise, the Lock & Key Social Drinkery has some of the best burgers in town (not to mention a huge selection of craft beers).
However, if you're more of a health nut, you'll want to check out the Downtown Downey Farmers Market. It takes place each Saturday on Downey Avenue between 2nd and 3rd Streets. Maybe even consider arriving in style this weekend with an all-new ride
About Our Honda Dealer near Downey CA
When our Honda dealer near Downey, CA, opened back in 1963, we were little more than a small family business running on family-oriented principles. Since then, however, our Downey area Honda dealer has come a long way, earning several national awards as well as local recognition.
Our business employs some very simple principles to achieve success. First and foremost, we believe in offering a super selection at super prices as well as providing superb service to our customers.
A Massive Inventory of Honda Vehicles
Before stopping into our Honda dealer near Downey, CA, consider your needs. Are you looking for something new, or would you prefer buying used or certified pre-owned? We have many of each in stock, so you should have no problem finding just what you need.
If you're a heavy work-week commuter whos tired of guzzling gas, then we might suggest looking at the economical Honda Civic. If you've got a big family you need to protect, then you may want to try the Honda Odyssey. Both should leave you feeling satisfied.
We're extremely confident in the quality of these vehicles and our prices, which is why we offer the Price Protection Guarantee to everyone who shops with us. If you find the same car for less at another dealer within a given number of days or miles, well either pay the difference or buy your vehicle back.
With this guarantee, you won't need to give a second thought to whether or not you've received the best possible deal. Trust us, that peace of mind is really going to go a long way.
Of course, we don't just want to help you protect that big investment. We want to help you save on it, too. That's why we offer so many specials and incentives on our website. Whether you're buying or just stopping in for service, you should be able to find a discount. Check them out today.
Fast & Friendly Customer Service
The experienced sales team at our Honda dealer near Downey, CA, is truly top-notch. Our average sales representative has worked on the team for 12 years, so they know exactly what they're doing. Be sure to grill them with any and all questions you might have.
If you're really interested, they'll even let you take your favorite model for a spin. Undoubtedly, this is the best way to tell if a car is right for you. Take note of the spaciousness and engine response while you're behind the wheel. We're sure you won't be disappointed.
We're proud to say that our finance team is equally skilled. They understand just how sensitive finance can be, particularly for those drivers who've struggled with credit in the past. Nevertheless, with their knowledge and experience, they'll work to get you approved, regardless.
They're also more than happy to walk you through the entire leasing process if you're not quite ready to commit to buying. Leasing has become an increasingly popular and affordable financing option in recent years. Visit our finance page online to learn more about its many benefits.
Keeping Your Honda in Excellent Shape
The Honda is a fairly complex and unique car with one heck of a powertrain. In the beginning, it's going to ride impeccably. However, the only way to keep things that way is with diligent routine maintenance and repair.
Our Honda dealer near Downey, CA, has one of the best service centers around, stocked with all the latest and greatest tools and parts. However, it's the technicians that are the true heart and soul.
They've got years of experience under their belts, and have diagnosed some tricky vehicle issues over the years. When you bring in your car, you can trust them to get the job done right the first time.
Start Looking for a New Car Today
At our Honda dealer near Downey, CA, finding your next car is easy. Start from the comfort of your own home by checking out our inventory online. This is a terrific way to compare vehicle specs and features.
From there, why not apply for pre-approval? By filling out a short form (it should only take a few minutes), you'll be one step closer to owning your next Honda.
When the time comes, our team at Norm Reeves Honda Superstore Cerritos will be here waiting. Stop in and see us when you're ready!