Used Cars for Sale near Carson, CA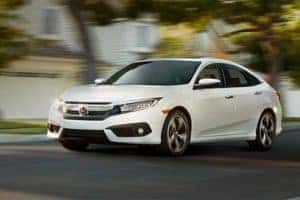 With a population of nearly 98,000 residents, Carson, CA, might come off as a big town. However, its neighbor, Los Angeles, makes it seem incredibly small in comparison. And while the city is much quieter than L.A., it's by no means tiny in terms of what it has to offer.
Carson is home to the California Academy of Mathematics and Science, among other well-known schools. College kids make up a sizeable portion of the town's residency, and their presence has drawn many small businesses, bars, and restaurants to the area in recent years.
Sports fans will feel at home in Carson with the StubHub Center just around the corner. This sporting complex, featuring a major soccer stadium, has been used by teams like the LA Galaxy, LA Chargers, and many more.
Used Car Dealer near Carson, CA
City driving can sometimes be hard on a vehicle. So, when you need wheels to get across town, buying pre-owned may be the best option for you. And at our used car dealership near Carson, CA, you'll find hundreds of pre-owned vehicles in excellent condition.
Pre-Owned Cars for Sale
Norm Reeves Honda Superstore Cerritos has been serving Carson, CA, and beyond for over 56 years now. And during that time, we've been rated as one of the best Honda dealers in the country on several occasions.
These accolades are given in large part because of our vast inventory of new, used, and certified pre-owned vehicles, which you can view online today. From small sedans like the Honda Civic to roomier SUVs like the Honda Pilot, we have a little bit of everything in stock. You should have no problem finding a vehicle that matches your lifestyle!
Finding one that matches your budget shouldn't be too difficult, either. We work hard every day to cut down prices as much as we can. But beyond that, we offer plenty of specials and incentives on our website. Take a look to find a discount for your next visit!
You may also be able to save money by taking the pre-owned route for your next car. Understandably, some drivers might have reservations about buying a used car. Its hard to know how previous owners may have treated it, after all.
But you can rest assured that our pre-owned selection is only of the highest quality. When these vehicles come into our possession, we take the time to inspect, clean, and refurbish them as necessary. By the time you get behind the wheel, you'll hardly be able to tell its used.
5-5-5 Used Car Protection Plan
We're very confident in the quality of our cars and in our prices, enough so that we offer a Price Protection Guarantee on new cars, as well as 5-5-5 Used Car Protection Plan. If you can find the same car for less within an allotted time (or mileage), well buy back your car or pay the difference.
The best part of this protection plan is that you'll never really have to worry if you've gotten the best deal. Even if you manage to find something better, well honor the price difference without a hassle. Now, that's some excellent peace of mind right there.
Let Us Assist You
We don't want any of our customers walking into the car buying process blind. A vehicle may very well be one of the biggest purchases of your entire life. To help you stay informed, our team is happy to walk you through every step of the process.
First and foremost, our sales representatives are true car experts, and they're more than happy to answer all your questions. Unsure of how a particular feature in your car works? Have questions about the powertrain? Just let them know. They can fill you in on the details.
When the time comes, they'll even let you take the car for a spin. You won't really know if its right for you until you've driven it. Just let our sales representatives know you're ready to get behind the wheel, and they'll take you out.
Auto Financing near Carson, CA
Once you've taken it for a drive, you might be dreaming about taking it home. If that's the case, then you'll need to talk with our finance team. They want you to take the car home, too, and they'll do everything they can to make sure that happens.
First and foremost, they'll work to get you approved for your auto loan, even if your credit is less than stellar. They live for these kinds of challenges, so don't be shy. We're sure they can find a solution for you.
Honda Service near Carson, CA
Our technicians are just as adept. When it comes time for service, whether you need some routine maintenance or a much more substantial repair, let them take care of everything. They're equipped with the right tools and the right knowledge to finish the job promptly.
They can also perform upgrades. If you're looking to add a special accessory or new performance part to your car, you can start shopping on our website. From there, schedule a service appointment online or over the phone, and our technicians will have it installed in no time at all.
Find a Used Car Today
At Norm Reeves Honda Superstore Cerritos, the automotive experience is all about you. From wonderful customer service to great selection and deals, you'll truly feel excited about buying your next car.
Visit our used car dealer near Carson, CA, for the best variety, customer service, and deals around. We hope to see you soon!