---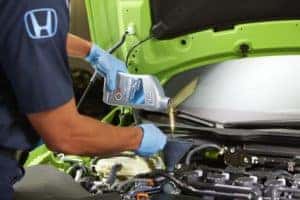 There are plenty of services that your Honda Civic needs to perform at its best on the roads of Cerritos, Buena Park, and Long Beach, California. However, one of the most important forms of automotive service, and the most frequent, is the oil change. But if you're in need of an oil change, it helps to know the type of oil for your Honda Civic the next time you schedule service or change it on your own.
At Norm Reeves Honda Superstore Cerritos, we're here to walk you through the Honda Civic oil change and the type of oil Honda recommends for your vehicle, so it can perform at its best!
What Oil Does for Your Honda Civic
Oil is crucial to your vehicle's performance because it helps by lubricating the moving metal parts under the hood. When lubricated, these parts will move fluidly and will be cooled by the oil. Your oil will also help keep these parts clean by picking up the loose particles, debris, and excess grease. However, after a while your oil gets dirty and less effective at its functions, and will need a change.