Type of Motor Oil Your Car Needs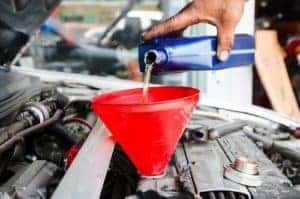 It's time for that oil change and you don't know what type of oil your vehicle requires. We've all been there. Maybe you're at the express lube shop and you're put on the spot with the question of which oil to use. Then the panic of being ripped off by the mechanic sets in. Or you're in the motor oil aisle at your local auto shop. You stare at the numbers and categories of oil. You have no idea what to look for.
Choosing the right oil for your vehicle can be a daunting task. However, if you know what to look for, the process can be quite easy and less expensive than not knowing.
The easiest way to figure out which oil your vehicle requires is to simply open the owner's manual and look. The oil presented in the manual will tell you the oil that the engine was designed to use.
You also want to inspect the oil packaging for the seal of the American Petroleum Institute (API). This seal certifies that the oil is up to date and has passed required testing for quality control. Non-certified oils could cause damage to your engine, and in most cases, will void any warranties you may have with your vehicle.
The viscosity levels, or the ability to resist thinning at higher temperatures, are also important to understand. The higher the temperature at which the engine runs (listed in your owner's manual), the thinner the oil will become which will reduce its ability to lubricate correctly. On the other hand, an oil that is too thick will make it more difficult to start the engine. Another reason to consult your owner's manual.
Factors to Take into Consideration:
The current condition of your engine
The age of your engine
The elements of which you drive your vehicle
How the vehicle is driven
The following are the different types of oil and their performance purpose:
Conventional Oil:
This is the type of oil for the person that insists on frequent oil changes. An inexpensive motor oil, conventional oil is a good selection for low mileage vehicles.
Premium Conventional Oil:
This is the standard oil for new vehicles.
Full-Synthetic Oil:
This oil was created for high-tech engines
Long-lasting performance
Flows better at low temperatures
Maintain peak lubrication at high temperatures
Not necessary for most engines
Not to be used with older model vehicles
Synthentic-Blend Oil:
Premium Conventional oil with a shot of synthetic
Offers better protection during heavier engine loads associated with higher temperatures
This is a popular oil used with pick-up and SUV drivers
High Mileage Oil:
This oil is used with engines having 75,000 miles or more
Conditioners are added to increase flexibility of engine seals
Again, the best place to consult when choosing an oil for your vehicle's engine is in the owner's manual. As the vehicle ages and takes on more mileage, that is the time to start looking at a new type of motor oil. Be sure to consider the outdoor elements, the rate at which you drive and the conditions you drive in.
Being prepared and understanding the requirements of your vehicle's motor oil will save you money and ensure longevity in the performance of your engine.
If you are experiencing any of these issues with your car while driving you should schedule a service appointment with Norm Reeves Honda Superstore Cerritos service center located at 18500 Studebaker Road, Cerritos, CA 90703. One of our experienced technicians will be able to help you with any issue you're experiencing with your car.