Battery Repair near LA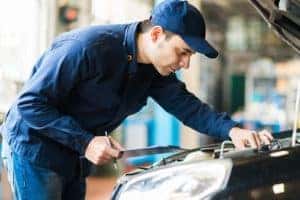 Automotive batteries are a delicate and important part for your Honda, and it needs attention and maintenance to keep it running. Without a properly functioning battery, car drivers all throughout Los Angeles, Downey, and Long Beach can face damage and breakdowns. Here at Norm Reeves Honda Cerritos, we want to help prevent these problems and to help you do that, you must first understand what to look for and what you can do to ensure a healthy power source for your car. So below are the common warning signs and preventative maintenance tasks you need to know for your battery. For immediate battery repair near Los Angeles, contact the Honda Service Department at Norm Reeves Honda Cerritos today.
Car Battery Warning Signs
Battery warning signs can pop up at any time, and once they start happening, it's imperative to head to the service center at Norm Reeves Honda Cerritos as soon as possible. Common battery problems include corrosion on the battery ports and the battery warning light on your dashboard. However, what drivers can also experience a slow engine crank to signal battery failure. This means when you go to turn the key in the ignition, you'll hear the engine try to rev up but will either fail to start or come on too slowly. An additional warning sign that drivers can experience is a swollen battery case that's caused by excessive heat under the hood. This is a serious indicator of trouble because if the battery is exposed to too much heat, it can explode causing damage to your vehicle and yourself. As stated before, it is crucial to head straight to the service center at Norm Reeves Honda Cerritos as soon as there are signs start to pop up to prevent further damage.
Battery Preventative Maintenance
There are a number of preventative maintenance tasks to help prevent battery problems. A great way to do this is to make sure your lights and other electronics like the radio are turned off when the engine is off. Leaving these devices on for an extended amount of time will cause your battery to drain ultimately resulting in a breakdown or the inability to start your car. You can also take battery brush and clean the casing and around the ports. This allows the current to pass through the part smoothly delivering power where it's needed.
Though performing the tasks mentioned above will help provide a long life for battery, it's still crucial to head over the Norm Reeves Honda Cerritos to schedule routine battery services. The trained technicians within our state of the art facilities work to provide accurate diagnosis and quality repairs to help ensure your battery stays running properly.
The battery inside your vehicle delivers the necessary power that starts your vehicle. Without a properly working battery, drivers all over the area can end up with the inability to make your vehicle start. To help prevent that, you should familiarize yourself with the battery warning signs and preventative maintenance listed above. So take the time and make sure this essential part stays running efficiently and properly longer.
If you're in the Los Angeles area and you feel you're having battery problems, head over to the Honda service center at Norm Reeves Honda Cerritos today to schedule your service appointment.