2020 Honda Pilot vs GMC Acadia

SUVs are a well-regarded segment for a number of reasons. They're great for families, offer a large amount of interior space, and usually have a decent towing capacity. With so many models out on the market, it can be difficult to narrow down your search. Two new SUVs are battling it out on the streets of Cerritos, Buena Park, and Long Beach—the 2020 Honda Pilot vs. GMC Acadia.
That's why we at Norm Reeves Honda Superstore Cerritos put together this matchup to educate local drivers about the differences between these vehicles. If you're currently looking for a family-friendly SUV, keep reading to discover which one suits your driving lifestyle.
Rival Engine Power
When it comes to engine output, the Honda Pilot and GMC Acadia are well-matched. Under the hood of the base model Pilot is a 3.5-liter V6 engine mated to a 6-speed automatic transmission. This setup generates up to 280 horsepower and 262 lb-ft of torque.
Unfortunately, the standard 2.5-liter 4-cylinder engine in the GMC Acadia only produces up to 193 horsepower and 188 lb-ft of torque. A comparably-sized V6 engine is an available option for the 2020 Acadia, but it requires a higher level trim than the entry level.
Comparable Interior Design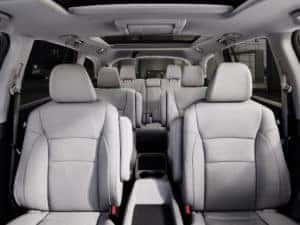 We'll start with one of the more important things for bigger families—seating capacity. The 2020 Honda Pilot standardly seats up to eight people while the GMC Acadia only seats up to seven people. To give you a better idea of the difference in size, the Pilot has 152.9 cubic feet of passenger volume while the Acadia has 143.80 cubic feet of passenger volume.
There's also a sizable increase in max cargo room when you compare the 2020 Pilot against the Acadia. With both rear rows folded down, you can expect 83.9 cubic feet of storage in the Pilot and 79 cubic feet in the Acadia.
Both vehicles come with infotainment screens that also serve as the monitor for your backup camera. This is where you can control music and navigation—if equipped. Although the Pilot and Acadia can be similarly configured when it comes to climate control, only the former has rear-seat heater ducts.
Pilot vs Acadia: Towing Capacity

As far as towing capabilities are concerned, the Honda Pilot has the advantage all around. The entry level trim Pilot is equipped with a larger engine and that gives it substantially more towing power—2,000 pounds—over the Acadia.
A 2-wheel drive 2020 Pilot can tow up to 3,500 pounds while the Acadia can tow up to 1,500 pounds with its 4-cylinder engine. An all-wheel drive Pilot has a 5,000-pound maximum towing capacity, which is good for a midsize boat or camper trailers.
To come close to the Honda Pilot model's max towing capacity in the GMC Acadia, you'd need to opt for an upgraded trim package. Even then, the Acadia model's 4,000-pound maximum towing capacity is still 1,000 pounds shy of its competitor.
Which SUV Will You Choose?
We hope you enjoyed reading through our 2020 Honda Pilot vs. GMC Acadia comparison and find it useful in your decision on a new SUV. As you can see, both models are fully equipped with powerful engines, a multitude of interior conveniences, and decent towing capacities.
However, the best way to decide which SUV is right for you is to take them for a spin around Cerritos, Buena Park, and Long Beach. When you're ready for the next step, contact the showroom at Norm Reeves Honda Superstore Cerritos to schedule a test drive in the 2020 Honda Pilot.