2020 Honda Pilot vs Ford Explorer

When you're looking to add space and power to your journeys through Cerritos, Buena Park, and Long Beach, you'll want to find the right full-size SUV to help you along. Of course, there are plenty out there, but a lot of drivers have trouble deciding on the 2020 Honda Pilot vs. Ford Explorer.
If you're in the same boat, don't worry, we're here to get you into the right SUV. At Norm Reeves Honda Superstore Cerritos, we're going to delve into the 2020 Pilot vs. Explorer debate to see how these vehicles differ so you can decide on the one that's right for you!
In-Cabin Entertainment & Technology
The Pilot and Explorer each come with dashboard-mounted touchscreen displays that you can use to select your media options from the road. Each SUV includes traditional AM/FM radios, auxiliary inputs and USB ports for portable media players, and even Bluetooth® for both hands-free phone calling and audio streaming.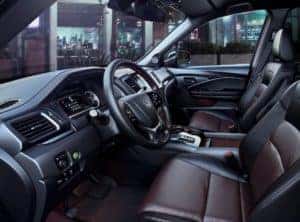 Additionally, the Speed-Sensitive Volume Compensation (SVC) in the Honda Pilot automatically adjusts the audio levels when the sound from the engine performance is interfering with your listening.
Driver-Assistance Safety
The Honda Pilot and the Ford Explorer each include their respective driver-assistance systems. The Pilot includes Honda Sensing® while the Explorer features Ford Co-Pilot360™. These features work alongside sensors that are mounted to the exterior of the vehicles. The sensors will measure the vehicles' distance from the object ahead while factoring in the rate of approach to determine if a collision is imminent.
Each SUV includes pre-collision systems that warn of a possible crash while providing brake pressure to reduce the severity or help you avoid it entirely. Both vehicles even include lane-keeping systems to ensure that the SUV stays in its intended lane.
The Honda Pilot, however, includes Adaptive Cruise Control (ACC). This feature will actually adapt to the flow of traffic because of a safe-distance set from the vehicle ahead. The Ford Explorer does offer a similar feature, but only after a few upgrades.
SUV Style & Appearance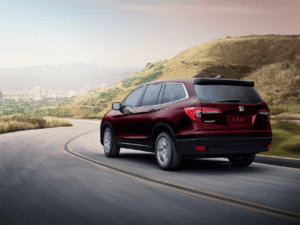 The 2020 Pilot and Explorer both share a resemblance. These 3-row SUVs offer quite the aesthetic similarities with their size and stature. The Pilot, however, has a sleeker and more refined grille and front fascia. The Explorer front has a larger and more box-like grille.
As for the style, the Honda Pilot has more variety with its offered colors. The Explorer offers plenty of colors, but they're a bit repetitive with two grays, two blues, and two whites. The Pilot offers more of a variety with its color options, and even includes Black Forest Pearl which is a deep green color. This color isn't an option with the Explorer.
2020 Honda Pilot vs Ford Explorer: Making Your Decision
Now that you have a better sense of these SUVs and how they differ, you're closer to seeing which one seems like the best fit for you and your travels. But in this Pilot vs. Explorer comparison, you saw that the Honda Pilot seems to have a few advantages that may make it the preferred choice for you.
Find out more by scheduling your test drive with us at Norm Reeves Honda Superstore Cerritos! We're happy to help drivers throughout Cerritos, Buena Park, and Long Beach for when it's time to find the right car!