Honda CR-V Dashboard Light Guide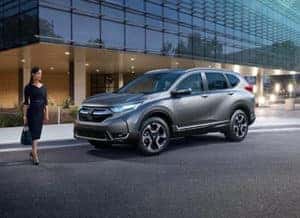 The dashboard can be a confusing place, and with almost 30 indicator lights on the Honda CR-V, we can understand why our Los Angeles, Long Beach, and Downey customers might feel that way.
In this Honda CR-V dashboard light guide, our team at Norm Reeves Honda Cerritos will explain some of the more abstract indicator lights so you can start to make sense of those illuminated symbols. Schedule a service appointment today.
Dashboard Lights
Typically speaking, the Honda CR-V dashboard lights can be organized into four colors. Red lights usually indicate that immediate service is needed, while yellow lights might be signaling that a certain component should be inspected soon. Green or blue lights are used primarily for non-critical vehicle information such as an engaged turn signal.
All-wheel drive (yellow): If your Honda CR-V is equipped with all-wheel drive, then you may see the AWD indicator light up, which means there may be a problem with the system. If the light is blinking, it means that the system has overheated. You should stop as soon as you can do so safely and wait for the light to go off.
Fog lights on indicator (green): Next to those three slanted lines with a wavy line cutting down the middle isn't a capital letter D, its a headlight. This light notifies you that the fog lights are engaged.
Lights on indicator (green): The picture of two opposing headlights in the top right corner lets the driver know that the headlights are on. Nothing wrong here just a friendly reminder.
Low oil pressure indicator (red): This light resembles an old-fashioned oil can and is a critical warning light. Without oil, your engine could seize, so it's important to get to a Honda service center right away.
Low tire pressure/TPMS indicator (yellow): It looks like a horseshoe with a ridged bottom edge and an exclamation mark in the center, which is fitting because this light does have something to do with traction. If the light is steady, then one or more of your tires probably needs air. If it's blinking, then the tire pressure monitoring system may have a problem and should be inspected.
Supplemental Restraint System indicator (red): What looks like a seated passenger with their seat belt on and an inflated airbag in front of them indicates that the airbag system or the seatbelt tensioners could be malfunctioning. You should have the vehicle inspected right away.
Where's My Indicator Light?
Because of the sheer number of indicator lights, we couldn't include everyone in our Honda CR-V dashboard light guide. However, if you're in the Los Angeles, Long Beach, or Downey area, you can contact our service department at Norm Reeves Honda Cerritos and one of our trained Honda technicians will be happy to help you.
If you need to schedule a service appointment, you can do so by calling us at (562) 888-5100 or by filling out the fast and convenient service request form available on our website. Don't let a potential problem go unchecked. Schedule your service appointment today.