Honda Accord Dashboard Light Guide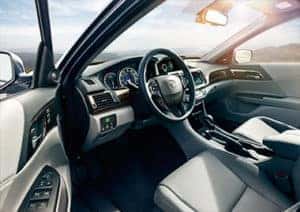 With today's modern technology, drivers often forget just how important the dashboard lights on the Honda Accord can be. They're an important tool for determining the overall condition of your vehicle. They warn you when it needs repairs and help you stay on top of maintenance.
With that said, it's important to understand what each symbol means so you can provide the care your Honda Accord needs so it lasts for a long time. To help you do just that, here's your Honda Accord dashboard light guide.
ECON Mode
The ECON Mode indicator on the dashboard of your Honda Accord looks like a yellow plant stem with leaves and a bulb. When you press the ECON button, this light will turn on to let you know this feature is adjusting the internal systems to help your vehicle perform more efficiently.
Brake System
The brake light is the words BRAKE SYSTEM in orange. If you see it shining on the dashboard of your Honda Accord, then there's an issue with the brake override system and you need to schedule a service appointment at Norm Reeves Honda Cerritos.
Malfunction Indicator Lamp
The malfunction indicator lamp (aka check engine light) looks like an engine block that glows orange. There are two instances when this light will activate. When it blinks, it means there's a misfire in the engine's cylinders. When it remains lit, then there's a malfunction with the emissions system.
Regardless of why it comes on, if you see it illuminated on your dashboard, you must have a professional diagnose the problem and repair it as soon as possible.
Forward Collision Warning
When you see the letters FWD in orange on your dashboard, there could be an error with the Forward Collision Warning system. Usually, it will blink in vehicles equipped with this feature when there's a potential collision. However, it remains steady, then its because it has been deactivated or the system needs to be repaired.
Lane Departure Warning
The Lane Departing Warning light is an orange LWD and will blink when you drift outside your intended lane. But like the Forward Collision Warning light, the Lane Departure Warning indicator won't blink when the feature is off and when there is a malfunction.
Maintenance Minder
Maintenance Minder is a unique feature in the Honda vehicle lineup. In your Honda Accord, this symbol looks like an orange wrench, and it works to keep you on top of any recommended service appointments. So when it comes on, its simply alerting you that its time to schedule a maintenance procedure at Norm Reeves Honda Cerritos.
While the innovative technologies in your Honda Accord are great tools for drivers across the area, its dashboard lights are the ultimate resource to ensure its performance and longevity. To understand the meaning of each symbol and take action as soon as you see one come up.
For more information about the Honda Accord dashboard light guide or to schedule your service appointment, call (562) 888-5100 or visit Norm Reeves Honda Cerritos near Los Angeles. Long Beach, and Downey.